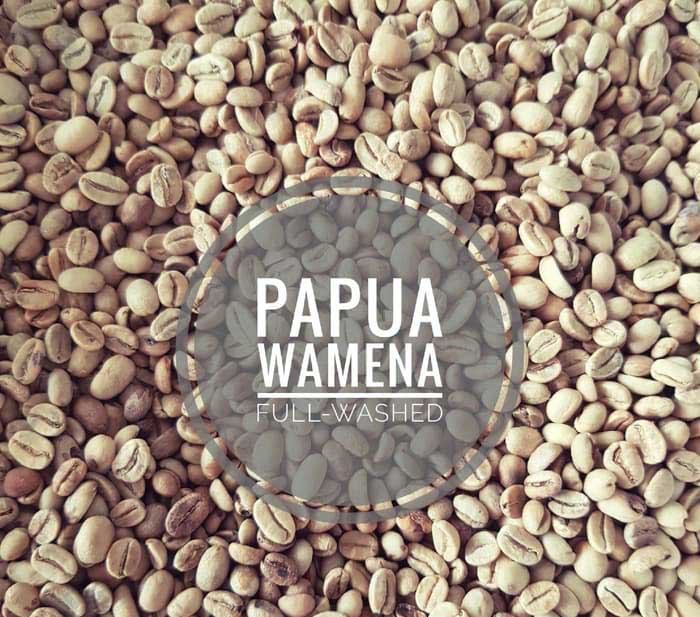 Wamena arabica coffee has a aroma with a blend of flower, spicy and caramel. When viewed in terms of taste, wamena coffee has a blend of nutty, orange and herbal flavors. This Papuan coffee also has a strong body and medium acidity, smooth and clean
Characteristics :
– Varian: Arabica Single Origin | Papua Wamena
– Grade: G-1, Specialty
– Process: Washed
– Region: Mt. Jayawijaya
– Altitude: +/- 1,600 to 1900 masl
– TM: 12%
– Varietas: Typica
– Defect: < 2%
– Tasting Notes: Chocolaty, Caramel, Spicy, Floral & Flowery
What is ?
Wamena specialty coffee is one of best indonesia specialty coffee. Wamena specialty coffee has a aroma with a blend of flower, spicy and caramel. When viewed in terms of taste, Wamena specialty coffee has a blend of nutty, orange and herbal flavors. This Papuan coffee also has a strong body and medium acidity, smooth and clean. organic coffee beans of wamane is also with export quality or around less than 5% with a water content of 12-13%. For annual stock can be obtained up to 10-15 tons per month. Produced in the central mountainous region of Papua, the Jaya wijaya Mountains at an altitude of 1600 – 1900 m above sea level. Residents in this region, live from agricultural businesses. The local wisdom of the people, do not use chemical fertilizers in agricultural cultivation, making their farming business classified as organic. Arabica coffee is an introductory plant since 1956 brought by Christian missionaries who came there. At first, only to meet its own needs against the temperature of cold air.
Now arabica coffee from this area, has begun to be known outside, since the first export was made to the United States at the end of 2008. Baliem coffee demand continues to increase, but its production is still limited. The name Baliem Papua Arabica coffee, is the name agreed upon by the Society for the Protection of Geographical Indications (MPIG-Masyarakat Perlindungan Indikasi Geografis), a community producing and observing Arabica coffee in Indonesia.
Coffee in the mountains of Papua is grown by traditional farmers and also planted without using organic fertilizers or chemical fertilizers, also without pesticides. So it is not surprising that coffee from Papua produces the best quality with a light texture, minimal pulp, fragrant aroma and does not leave a sour taste on the tongue or after taste.
IDCoffee is specialty coffee suppliers of arabica coffee beans and robusta coffee beans, we also sell, Gayo coffee beans, java ijen coffee, java preanger coffee, mandheling coffee beans, roasted coffee beans
Feel free to contact us for bulk specialty coffee wholesale price.