Description
Coffee with a natural process where horn-skinned coffee is still shrouded in mucilage directly dried. Until the water content reaches 12% to produce a fresh and comfortable Fruity taste in the mouth.
– 100% Gayo arabica Coffee Green Beans With Natural Process
– Quality: First Grade Quality
– Method: Natural Process
– Post-harvest Wet Mill
– Altitude: 1400 – 1600 MASL
– Taste Character: choco-floral-Wineny-fruity-syrupy
– Region of Central Aceh
___________________________________
In all post-harvest processes, the first thing to do is definitely sorting between good quality fruit and poor quality fruit, after which the drying process is carried out. There are two kinds of ways in this drying process, namely Dry Process (Natural Process) and Honey Process. And this time we will discuss about Dry Process or what we often call Natural Process.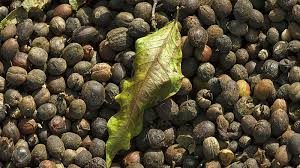 As the name implies, this process does not use water and does not even require a pulper machine, because the skin and flesh of the fruit do not need to be peeled. After the coffee is sorted, the coffee fruit is immediately dried in the sun either directly or using plastic green house. The drying process of coffee fruit requires high sunlight intensity, so that the coffee fruit can dry quickly. The faster it dries, the coffee fruit will be able to avoid fungi and a continuous fermentation process. Fruit flesh that is rich in sugar during drying in hot sunlight also gives flavor to coffee beans.
What are the stages in this natural process of coffee beans?
Before entering the drying stage, to get maximum results in the drying process, it's better to pay a little more attention to how to harvest the ripe coffee fruit. It is unfortunate if we plant quality coffee but at harvest, do not pay too much attention to which coffee fruit is really cooked and which coffee fruit has not. Recommendations for good results, harvest coffee fruits that are completely cooked.
First Stage of Drying
It is important for the ripe coffee fruit and then entering the drying beds to be thoroughly stocked and spread. And don't forget to make the necessary notes, at what time the coffee fruit starts to enter drying beds. Once spread, it's good not to exceed 3 inches measured by the thickness of the stack, so that the coffee fruit gets enough air flow during the drying process.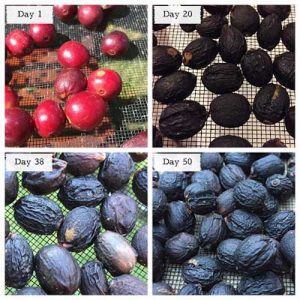 About 3-4 hours have passed, it is important to reverse the coffee fruit section, so that the coffee fruit is exposed to evenly distributed sunlight. And at this stage too, separating which coffee fruit is too ripe and immature, by looking at the color of the coffee fruit, harmonious colors will create a consistent and quality taste profile.
Second Stage of Drying
After three to five days, the coffee fruit will look like dry rubber. At this stage, we can stack coffee fruits up to 5-6 inches thick on drying beds, ensuring that even drying is also important. At least in a day, there are two times reversing the stack.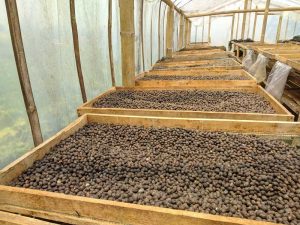 Final Stage of Drying
After the next three to four days, coffee farmers have two ways to end it. The first are some coffee farmers who have a drying machine, the coffee fruit will then be dried again using rotary dryers, to ensure that the coffee fruit is dried out evenly and for resting it. But, not a few coffee farmers also complete the final stages of drying on drying beds.
The most important thing is when measuring moisture content with a moisture meter, it is good to try the dried coffee fruit to have a moisture content below 11%. Hot temperatures when drying, usually around 29-31 ° C, but depending on the area of ​​drying.
Storage Phase
Time to enter the coffee beans in the sacks that you have provided, whether using Grain-pro or other types of sacks. Whether you pay attention to the storage area before the buyer or carrier arrives, make sure to choose the location of the storage room that is cool and not too hot.
The natural process has a sweet flavor that is more due to the length of the fermentation phase of the sweets in the flesh of coffee fruit in the sun. This phase gives fruit sweetness more intense into the coffee beans. Manual brewing coffee enthusiasts choose to use Chemex, V60 or flat bottom brew tools to extract the flavor and aroma of natural coffee.